Kimberly DiPrima's Recommendations
1st time buyer in Elgin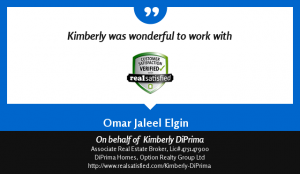 Kimberly was wonderful to work with
---
Seller and Buyer Client testimonial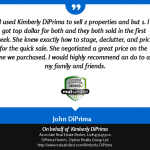 I used Kimberly DiPrima to sell 2 properties and buy one. I got top dollar for both and they both sold in the first week. She knew exactly how to stage, declutter, and price for the quick sale. She negotiated a great price on the one we purchased. I would highly recommend an do to all my family and friends.
---
Seller client in Batavia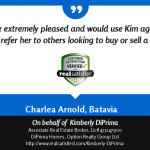 Charlea & Scott
Batavia, IL
We were extremely pleased and would use Kim again and would refer her to others looking to buy or sell a home!
---
First time home buyer in Yorkville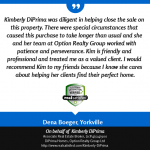 Kimberly DiPrima was diligent in helping close the sale on this property. There were special circumstances that caused this purchase to take longer than usual and she and her team at Option Realty Group worked with patience and perseverance. Kim is friendly and professional and treated me as a valued client. I would recommend Kim to my friends because I know she cares about helping her clients find their perfect home.
---
From a first time home buyer in St Charles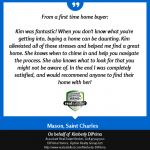 Kim was fantastic! When you don't know what you're getting into, buying a home can be daunting. Kim alleviated all of those stresses and helped me find a great home. She knows when to chime in and help you navigate the process. She also knows what to look for that you might not be aware of. In the end I was completely satisfied, and would recommend anyone to find their home with her!
---
Repeat Client testimonial
Kimberly DiPrima had my mom's house sold before we even finished updating it.
---
First time home buyer in McHenry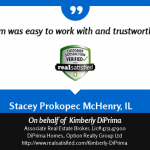 Kim was easy to work with and trustworthy.
---
Seller and Buyer repeat Client testimonial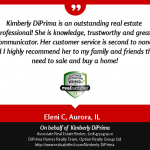 Kimberly rocks! Kim did an amazing job!
---
Home buyer from out of state
Kathy & Larry
Sugar Grove, IL
Kimberly was wonderful to work with! I can't thank her enough for being there every step of the way. She is knowledgeable and thorough. A great realtor!
---
Home buyer from out of state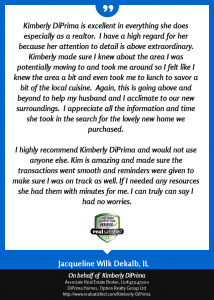 Jacqueline & John
DeKalb, IL
Kimberly DiPrima is excellent in everything she does especially as a realtor. I have a high regard for her because her attention to detail is above extraordinary. Kimberly made sure I knew about the area I was potentially moving to and took me around so I felt like I knew the area a bit and even took me to lunch to savor a bit of the local cuisine. Again, this is going above and beyond to help my husband and I acclimate to our new surroundings. I appreciate all the information and time she took in the search for the lovely new home we purchased. I highly recommend Kimberly DiPrima and would not use anyone else. Kim is amazing and made sure the transactions went smooth and reminders were given to make sure I was on track as well. If I needed any resources she had them with minutes for me. I can truly can say I had no worries.
---
Seller and Buyer in Oswego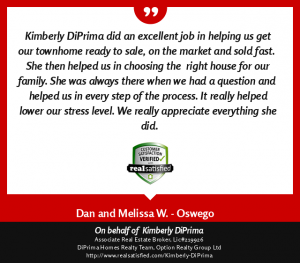 Dan and Melissa
Oswego, IL
Kimberly DiPrima did an excellent job in helping us get our townhome ready to sale, on the market and sold fast. She then helped us in choosing the right house for our family. She was always there when we had a question and helped us in every step of the process. It really helped lower our stress level. We really appreciate everything she did.
---
Seller in Aurora and Buyer in Sandwich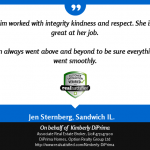 Kim worked with integrity kindness and respect. She is great at her job. Kim always went above and beyond to be sure everything went smoothly.
---
Home buyer in Oswego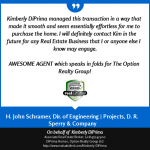 Kimberly DiPrima managed this transaction in a way that made it smooth and seem essentially effortless for me to purchase the home. I will definitely contact Kim in the future for any Real Estate Business that I or anyone else I know may engage. AWESOME AGENT which speaks in folds for The Option Realty Group!
---
Happy Home Buyer in Montgomery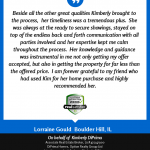 Besides all the other great qualities Kimberly brought to the process, her timeliness was a tremendous plus. She was always at the ready to secure showings, stayed on top of the endless back and forth communication with all parties involved and her expertise kept me calm throughout the process. Her knowledge and guidance was instrumental in me not only getting my offer accepted, but also in getting the property for far less than the offered price. I am forever grateful to my friend who had used Kim for her home purchase and highly recommended her.
---
Home buyer from out of state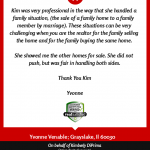 Kim was very professional in the way that she handled a family situation, (the sale of a family home to a family member by marriage). These situations can be very challenging when you are the realtor for the family selling the home and for the family buying the same home. She showed me the other homes for sale. She did not push, but was fair in handling both sides. Thank You Kim